2017 is coming to an end. It's amazing remembering how everybody here at Toy Box Lab had such a different life one year ago. TBL was born in the middle of 2017 and did so much in just a few months! Let's enumerate what we have already presented to you:
Ivan and I left our jobs and created Toy Box Lab, explaining a little bit about this decision here. We also make our company available i–n  a–l–l popular social media;
Camila joined us as our game artist;
We started working on a PC game that one of us (literally) dreamed of and became really obsessive about – we would call this game 'Anthropomachy';
Anthropomachy grew very fast and the first idea of a fairly simple RTS game was transformed into something a little bit more complex: We have an interactive map, countries that follow actual GDP data, more than 20 greek gods (you just met Athena by now), 10 blessings and 10 curses for each one of the main gods, abilities tree and so many more elements;
We proudly introduced Anthopomachy's logo and explained how it represents what our game is all about;
Next year we're planning to go faster and stronger. The first months showed us how to work as a brand-new small team and how to manage trouble. Now it's time to go for it with all we have. In the last weeks of 2017, we've already done some stuff we haven't show anywhere, like a complete remake of our map – Athena, Hermes and Apollo's abilities trees are almost done as well (and are mostly like to be totally completed until next week). So, what should you expect in 2018 from us?
In the very first days of January we will bring you some news from The Dev Lab;
Many more gifts ans short videos showing our working game;
Anthropomachy will have its first trailer, with official songs and images, YAAAASS!
 We may run a crowdfunding campaign to help us deliver the game with all the features we planned;
Until its launch day, weekly updates in all social media we're in (it includes our blog, of course!)
Officially launching in the 2nd quarter of 2018 (we hope so) for PC.
By now, what I really wish is to say thank you for everyone that reached and gave us feedback on our project. It's very nice to see how many gamers and greek mythology fans we have around! I also want to thank everyone that liked/followed us in social media or those ones that just read our posts. You all made us feel happier and motivated to give our best to develop a great game! Please keep with us in the next steps: I promise we will be bringing exciting news!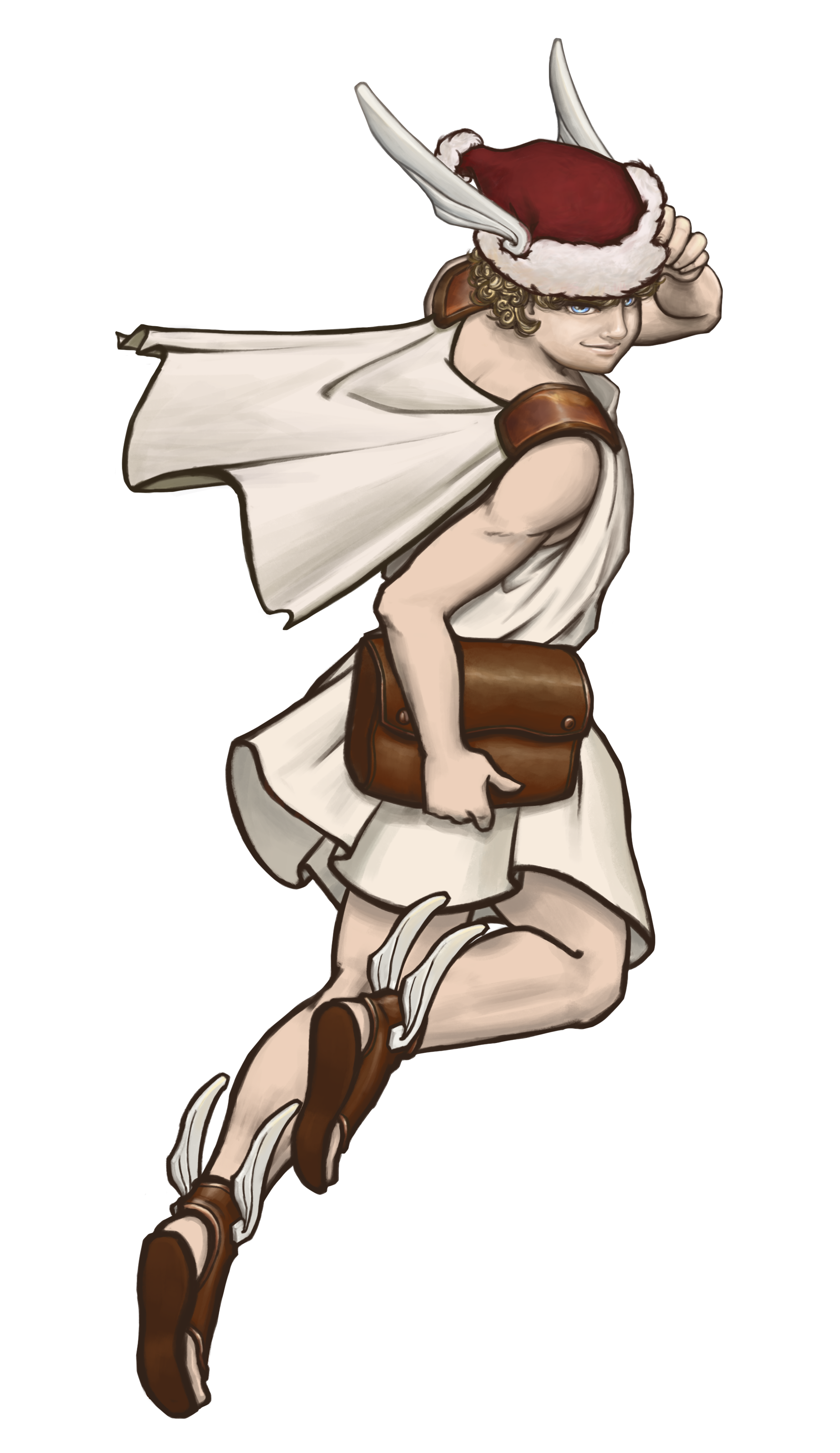 Our whole team and Hermes wish you all the Merrier Christmas ever and a wonderful new year. Our Olympian god even dressed a cute Santa's hat to come and bless your holidays! But don't worry – he won't be using it when he tries to rule the world by his own (or maybe he will? I don't know, he's a god, he can do whatever he likes). 😛
Happy Holidays and an awesome 2018! See you all soon!